More information
Vedic has a completely updated core with a new composition of minerals that we have worked on for a long time. Plus, the whole inside of the handmade corpus is silver-plated. Making Vedic 50% stronger than our previous bestseller Medic Green Ultra.
Suitable for larger properties, households as well as hospitals, clinics, doctor´s offices, and massage and cosmetic salons.

100% water harmonization/structuring
Emits less light in dark environments, supporting circadian cycles
New stone composition for stronger space harmonization and less oxidative stress
Silver-plated glass body made from vaseline glass for even more powerful emanation
Elimination of influences: 3G, 4G, 5G, EMF, geopathic zones (stress), free radicals

Environment: Hospitals, clinics, bio-resonance centers, schools, shopping malls, airplanes as well as regular family and multigenerational houses, apartments in cities and, properties close to cell-phone towers.
What's included?
Shipping and returns
A step up in vibrational healing
Vedic is the somatic healing savior with 50% more strength than Medic Green Ultra. It is the best-selling harmony haven out there, and the best choice of riding EMFs and harmonization of virtually any place. It's the ideal choice if you want to give your body a rejuvenating experience of better sleep, energy, and focus. If you're taking your first spin with vibrational healing, this is the best place to start.
Structured water – a better kind of H2O
Somavedic Vedic can create harmonized, structured water and help you increase your hydration capabilities. To achieve the maximum absorption with the structured water simply put your water next to the Somavedic, ideally not further than 20 cm (8 inches) away. The desired effect of 100% structured water occurs in 15-20 minutes. With Vedic you can enjoy a spring quality water with no compromise.
Proven positive effects
Somavedic has been tested throughout time by different independent laboratories and is proven to have positive results on our cells and bodies. Its effects lead to improved speed of cell regeneration and it has positive effects on HRV, cardiovascular and nervous system. Most of all, people experience better sleep and have more energy during the day.
"[...] I love having a Somavedic "Vedic" on my desk to help restore my body back to it's natural equilibrium. This is a must-have for anyone that finds themselves around EMF emitting devices often!"
Dr. Will Cole
"Loving my new Amber Somavedic device and as a professional biohacker, I love seeing the changes to my HRV from the first night I slept with it in my bedroom. Great device that really makes a difference in productivity and sleep quality."
Jill C. Carnahan, MD
"The Somavedic is an incredible, easy solution to recharge your body from the damaging effects of EMFs in your home. We can no longer ignore the health damage that EMFs create in the human body. Somavedic devices are a part of the new wave of healthcare and should be something every household has"
Dr. Mindy Pelz
Disclaimer
The information, statements and products provided on this website have not been evaluated by the Food and Drug Administration. It is not intended to diagnose, treat, cure, or prevent any disease.
Customer Reviews
Write a Review
Ask a Question
Filter Reviews:
water
somavedic
difference
sleep
home
device
effects
family
life
headaches
10/20/2022
Sherrie W.

United States
I recommend this product
Vedic
I was skeptical, but I loved the reviews and the idea of this device working. I plugged it in, put my water near it to structure it. I slept amazing and continue to! The first night, my husband did not get up to go to the bathroom. I believe this thing really works. I feel so good about it. I will definitely buy another one for my main house.!
10/19/2022
Lynette D.

United States
I recommend this product
Love
I love our Vedic. It is beautiful, water tastes amazing, and love the calmness I feel and see in our house. Excellent customer service.
10/15/2022
Sylwia W.

United States
I recommend this product
Excellent product
I love Somavedic I sleep better, feel overall well-being and the water tastes fantastic after being structured can't get enough
09/30/2022
jennifer T.

United States
I recommend this product
We have high hopes!!
According to the insert, our home will need 2-6 weeks for our Soma vedic to fully be effective. I do see a difference in my teen sons sleeping habbits, he seems ready for bed at a decent hour and seems more rested upon waking, the unit is closer to his room and 3 times farther away from our room but still in the middle of our home. We will submit another review in the next several weeks, i have high hopes for this little guy, for now it puts me at ease as we have a wifi on 24/7 and we are a homeschool family that also works from home so we are home more than the average family and desire a clean enviroment to thrive in as a family.
09/27/2022
Danika W.

United States
I recommend this product
Great product, nothing else like it!
Bought this for EMF and 5G mitigation as well as to harmonize my water. As soon as I plugged it in we noticed an overall calming effect through out our bodies and could only attribute it to the Somavedic. After a day, we drank the water we had set up next to it to have it harmonized and noticed the water tasted much sweeter! Did not expect this result with our water and are not hooked with harmonizing even our tea after boiling. It looks so beautiful the way it lights up (I took pictures but can't find where to upload them) and am about to purchase another smaller portable model.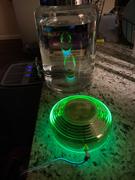 09/22/2022
Matthew N.

United States
I recommend this product
How can we verify benefits?
We have many questions thus far, as to how we know there is any health benefit. My husband sits at a desk with WiFi , computer, monitor and cell. We want to lessen his exposure. How can I verify that is happening with this device. It definitely doesn't not reduce the a tualy EMF readings.
Hi Matthew, many thanks for taking the time and leaving us feedback. Somavedics do not block EMFs but rather neutralize the EMF effects on your body and cells. That said, you can ́t measure the effects of Somavedic with an EMF meter. The effects can be measured on bioresonance devices (we recommend the Bicom since it's been one of the best, if not the best , device in this field). The bioresonance devices measure bodily functions, the conditions of the entire body, EMFs, and other burdens quite precisely. The Somavedic was invented not to block EMF itself,but to support immunity by creating a coherent field in which our bodies won't negatively respond to the effects of EMFs. As Somavedic also improves HRV (heart rate variability), many of our customers also use HRV tracking devices to track the improvement. We hope this helps, but if you have any questions, please feel free to contact our customer support team.
09/22/2022
Andre D.

United States
09/20/2022
Angela J.

United States
I recommend this product
So glad I finally purchased this.
I am ever so glad I purchased the Vedic. I know the water structuring is helping our family get more water into our system and I love knowing we are mitigating outside forces that can harm us. Thank you!!
09/05/2022
Alexandra R.

United States
I recommend this product
Amazing 10/10 Recommend
I would definitely recommend this. I bought it in January and noticed a huge difference immediately, as did my boyfriend, who is not nearly as sensitive as I am. We both felt a great deal more calm, slept better, and noticed improvements in our digestion and overall health. We usually turn the wifi off at night when we sleep, and we noticed, even with doing that, we slept much much better with this somavedic. I'm rambling a bit, but I think this is a great asset to our lives and recommend it to all. I bought one for out family who lives near a cell phone tower and I am excited to see how they like it. If you are a sensitive person like me, get this, thank you me later. If not, I still think you will love it. Also, after putting water , juice, or anything next to it, it will taste AMAZING. I even my my salmon or anything I'm cooking next to it before cooking and I think it tastes better. Pro tip, we covers our up with a sweater at night to sleep with no lights on.
08/26/2022
Meredith P.

United States
I recommend this product
Perfect
Our family and relationships have been calm cool and collected lately and I am certain this little guy is responsible. Thank you!